Placing An Order In Advance
Goldbelly items are either handcrafted or produced in limited quantities, shipping directly from our partner shops. We highly recommend ordering your items in advance, especially during times of high demand like the holidays. You can place an order up to 8 weeks in advance through our checkout.
Scheduling Delivery
A majority of Goldbelly products are made and packed with the intention of allowing you to choose to serve immediately or to store them for a later date. Just follow the instructions included in your box. Most products will remain fresh in your refrigerator or in the freezer for a few days, up to several months. Some specified items can even be left on the counter.
Due to potential production delays (especially during high order volume times like the holidays) and events completely out of our control (such as inclement weather) that can affect delivery, we highly recommend scheduling your items to arrive at least 2+ days prior to when you need them.
Delivery Dates
In some cases, the next available delivery date shown at checkout may be a few days or weeks away because the partnering shop has hit its order limits on all previous dates or has temporarily paused shipping operations and is no longer accepting new orders for an earlier date. Once a delivery date sells out, the next available date may incur expedited shipping fees.
Delivery times and shipping costs vary depending on what food maker you are ordering from. When you find a product you'd like you can select "View More Dates" under the red "Add to Cart" button to see available delivery dates. These dates vary product to product so this is the best way to see! The date is then selected during checkout.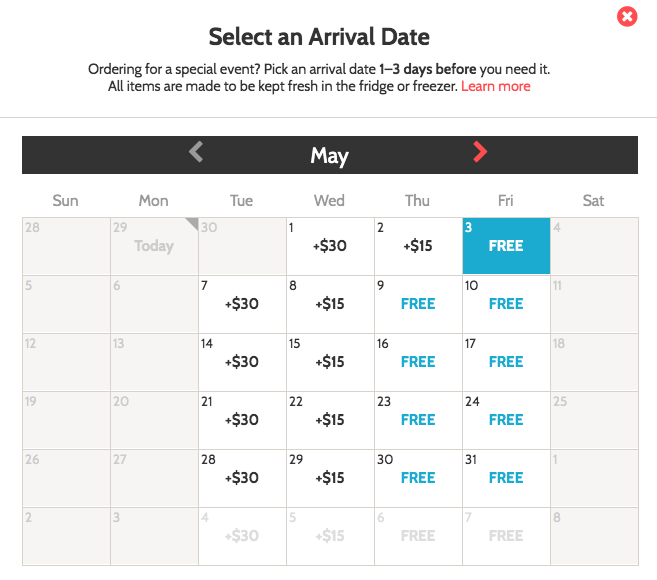 Expedited Shipping
Additionally, a shipping upgrade may be required occasionally to ensure your package is delivered on the date you need it. Once inventory is sold on a date, the next available could incur this fee. Once your item has been handed off to a shipping carrier you will receive an email from us with your tracking information.
To learn more about selecting a delivery date to ensure you receive your order when you need it, please reach out to our customer support team at support@goldbelly.com.